Message from the President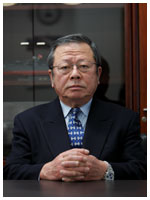 On behalf of ATLAS Shipping staff members, I wish to express my thanks to our valued customers supporting to our transport services.
ATLAS Shipping Co., Ltd. was established on October 2007 to meet the needs of the export market dealing in Export Used Vehicles such as Automobiles, Construction Machineries and Heavy Vehicles.
Since then, we have offered our ocean transport services to the market and have effectively responded to our customer needs.
In conformity with our Corporate Policies,
As a good corporate citizen,
we make it our principle to act fairly and observe all relevant laws and regulations, and conduct day-to-day business being guided by the highest ethical and social standards, and we also try to promote responsible ecological thinking and activity.
Through the use of our combined expertise, knowledge and experience caltivated in the liner shipping field,taking advantage of customers, we flexibly meet and respond to customers' specific needs and expectation by offering our safe and reliable services, and we also respond to consultation with customers for making up tailor-made transport services to fit customers' long-term transport needs.
Along with globalization in recent years, the world economy has equally certainties and uncertainties. So we will quickly grasp and respond to high-quality information in today's global information society and then we will act as a trusted and reliable bridge between domestic and overseas customers.
While to ensure high-classed customer satisfaction, we are sharply focusted, forward-looking and fully oriented to customer requirement.
We would really appreciate your royal support to our services and would look forward to continuing our successful business relationship.
January 2009
President